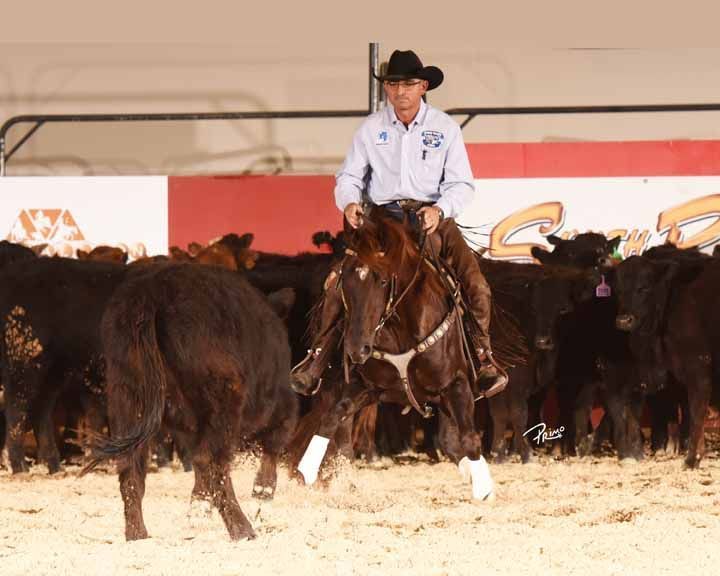 SOLD!

NOTES: One Time Prize is a very kind and gentle stallion that will do anything you
ask him to do, cut rein or go down the fence he does it all without hesitation.
Romeo is gentle enough for a Non Pro or show him in the open. He has a flat
spot on his stifle that does not affect his ability to be shown at this time and he
will be shown at the NSHA Futurity, if you have any question regarding this
issue please call Colter Negranti, DVM 805-215-6501, he has been the vet for
Romeo for two plus years, This is a great opportunity to purchase great show
horse or a stallion prospect.
PERFORMANCE RECORD: $16,079 and 15 AQHA points, 2017 NRCHA Stakes
Novice Horse Champion, 4th Intermediate Open and 9th in the Open; finalist,
2017 Intermediate Open Derby; top 10, 2017 NRCHA Celebration of Champions
Intermediate Open Derby; qualified for the 2017 AQHA World Show in
Junior Working Cowhorse; Open ROM.
1st dam
MISS COLONELS PRIZE, by Smokums Prize. $15,411: NRCHA Amateur Futurity
Champion (won the Herd Work), top 10 in the Intermediate Non-Pro & top 15
in the Non-Pro Futurity. NSHA RCH Amateur Futurity Champion. Dam of 7 foals,
6 of performance age, 4 money-earners--
MISS PRIZE MAKER (f. by Topsails Rien Maker). $29,805: NRCHA Non-Pro
Futurity Champion; NRCHA Derby Open Hackamore Champion; 6th, NRCHA
World Open Hackamore; 9.5 AQHA points.
ONE TIME PRIZE (c. by One Time Pepto). Reference.
TOPSAILS PRIZE (Topsails Prize). $10,925: split 3rd, NRCHA Futurity Open
Hackamore; 3rd, Salinas Rodeo RCH Open Hackamore; NSHA RCH Derby
Intermediate Open Novice; 6th, Valley RCH Hackamore Showdown Intermediate
Open.
2nd dam
Miss Colonel Bar, by Mister Colonel Bar. Dam of--
MISS COLONELS PRIZE (Smokums Prize). Above.
Miss Colonel Prize (Smokums Prize). NRCHA money-earner: 6th, NRCHA Derby
$5,000 Limited Non-Pro; Valley RCHA April Limited Non-Pro Reserve Champion.
3rd dam
Jubileena, by Doc O'Lena. Dam of--
Mr Jewelena Bar (Mister Colonel Bar). $2,051 & 10 AQHA points: Utah RCHA
Limited Open Bridle Reserve Champion; 1st, C. Wyoming Cutting Club February
$50,000 Amateur; Open Performance ROM. svp 7/17
Price: $15,000.00
---
---
One Time Pepto

---

Peptoboonsmal

---

Peppy San Badger

---

Royal Blue Boon

---

One Time Soon

---

Smart Little Lena

---

Uno Princess

---

Miss Colonels Prize

---

Smokums Prize

---

Smokum Oak

---

Tommie Tivio Tucker

---

Miss Colonel Bar

---

Mister Colonel Bar

---

Jubileena

---